UFC 210: Cormier vs Johnson 2 Breakdown
by Daniel Tom on Thursday, April 13th, 2017
No Comments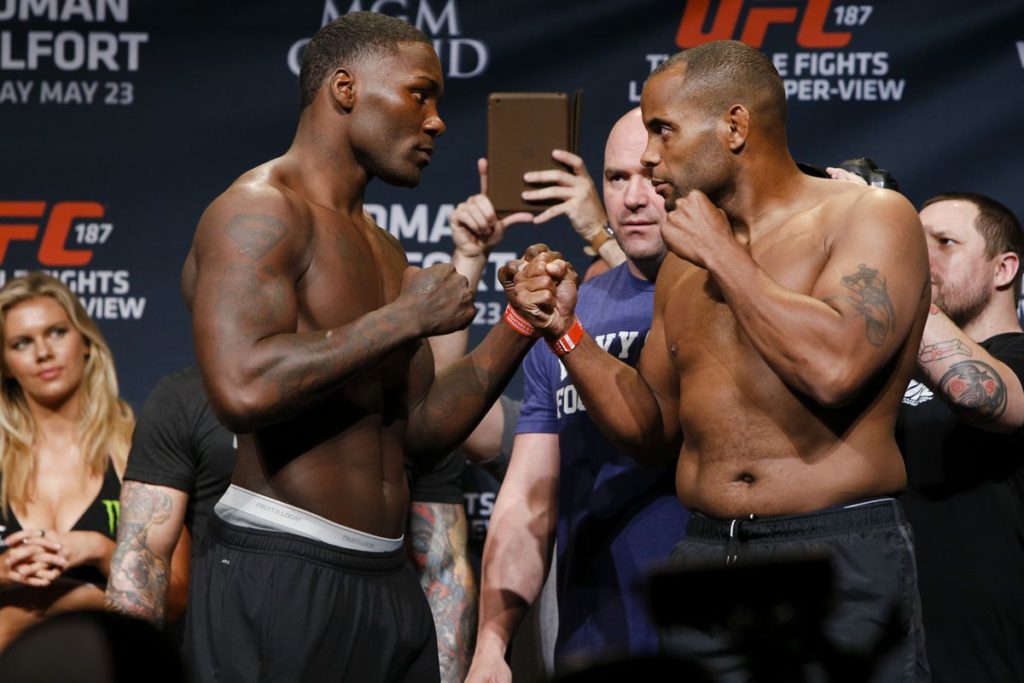 ***UNDER CONSTRUCTION***

Saturday, February 4th, 2017 in Houston, Texas for UFC Fight Night 104: "Bermudez vs. The Korean Zombie" by Daniel Tom

This article was originally released through FloCombat.com
Fighter Name and Record
Staple info:
Height: XXX Age: XX Weight: XXX lbs Reach: XX"
Last Fight:
Camp:
Stance/Striking Style:
Risk Management:
Supplemental info:
+   
+  
+
+  
+  
+  
Fighter Name and Record
Staple info:
Height: XXX Age: XX Weight: XXX lbs Reach: XX"
Last Fight:
Camp:
Stance/Striking Style:
Risk Management:
Supplemental info:
+
+
+
+
+
+
Summary:
The main event for UFC 210 is a title fight in the light-heavyweight division as Daniel Cormier will meet Anthony Johnson for the second time.
Since their first meeting, Daniel Cormier has had fewer fights on paper but has battled with a slew of injuries and issues outside of the Octagon that has forced him or his opponents out of fights. Now, healthy and ready to compete, Cormier will seek to silence his doubters by successfully defending his belt once again.
Standing in the champion's way is Anthony Johnson, the man who is without a doubt the scariest contender in the division. Though Johnson came up short in their initial bout, the former title challenger has looked spectacular since then, displaying measurable improvements as he has earned himself another crack at the belt.
Starting off on the feet is an interesting battle of pressure-style strikers. Typically, when two pressure fighters are paired up, the more flexible striker tends to fair better as the fight wears on. Though you could argue that Cormier has more to offer from an overall standpoint, I see Johnson(as per usual in his fights) having the edge early in the pressure department.
Subtly stalking forward in left-to-right plots, Anthony Johnson maintains a state of constant offensive and defensive readiness. Utilizing said left-to-right shifts, Johnson is already set in motion to move defensively one way in order come back offensively from the other. These movement principles keep Rumble in balance and translate beautifully to his kicking game.
As seen in his fight with Jimi Manuwa, we saw Johnson throw left power kicks as he counterbalanced this attack with hard right hands from the other side. Although Johnson's overhand right is seemingly always on the table as a threat, he may find some success with his uppercut in this contest.
Despite Daniel Cormier possessing a solid uppercut that he likes to fire when inside of the pocket, his stature and propensity to dip in-close could cost him against Johnson if he is not careful. However, Cormier has shown improvements in this area in his last two outings.
Against Alexander Gustafsson, Cormier did a much better job of pivoting off at an angle when throwing his uppercuts on the inside, allowing him to be less vulnerable when opening fire. Against Anderson Silva, Cormier kept within the spirit of angle-awareness as he shifted off his right hand so that he could keep away from Silva's power side.
Though Silva was able to catch Cormier with a body kick in the third round of their fight, Cormier was able to catch and counter that kick into a takedown on multiple occasions prior. Given that the champion was able to do the same to Johnson in their first fight, it will be interesting to see what kicking selections the challenger utilizes this time around.
Nevertheless, you can count that Cormier's game plan will be based around grappling no matter how he fairs with Johnson on the feet. And though the champion has an on-paper edge on the floor, I do not expect Cormier to have his way early as Johnson has made measurable jumps in his ground game.
Working with renown catch wrestling coach Neil Melanson, Johnson has shown improvements to all areas of his grappling since his last bid for gold. From his top pressure to positional rides, Johnson appears to be embracing the part of his game that has plagued him in the past.
Although Johnson has the tools to pose problems from topside, I am not so certain how much he will look to initiate grappling exchanges to get himself there. That said, I do expect him to be able to do a much better job of negating grappling exchanges from his takedown defense to hand-fighting awareness.
Johnson's ground upgrades aside, I am still not yet sold that he can out grapple an air-tight positional player like Cormier. Despite not wielding the flash to his game, Cormier does almost everything right from topside as he plays a conservative, high-percentage game that wears on his opposition.
Couple that with an ability to scramble out from bad spots intelligently, and I see Johnson having to compromise Cormier to get the jump on him in a grappling scenario. And even though I believe that Johnson has the tools and technics to stifle Cormier's wrestling, I feel that it will all be for not if he cannot find a finish before the third, as Johnson's fight history traditionally points to that round in regards to diminishing returns.
As a fighter who trains under my former grappling coach, nothing makes me happier than to see success, particularly in that department, for Anthony Johnson. However, with the evidence available, I am still not sold that this is a "changing of the guard" in regards to an up-trending fighter crossing paths with a down-trending one.
And for that reason, I ultimately see this fight playing out in a similar fashion as I feel the dynamic of the matchup remains the same. Cormier's pressure makes him hittable by nature, but if Johnson cannot capitalize in the first two rounds, then I see the champion slow-cooking his way to victory after surviving a few close scares.
Official Pick: Cormier – Inside the distance
Official Outcome: Cormier – Submission (round 2)
Fighter Name and Record
Staple info:
Height: XXX Age: XX Weight: XXX lbs Reach: XX"
Last Fight:
Camp:
Stance/Striking Style:
Risk Management:
Supplemental info:
+   
+  
+
+  
+  
+  
Fighter Name and Record
Staple info:
Height: XXX Age: XX Weight: XXX lbs Reach: XX"
Last Fight:
Camp:
Stance/Striking Style:
Risk Management:
Supplemental info:
+
+
+
+
+
+
Summary:
In one of the most competitive cards in recent memory, UFC 210's co-main event matchup is amongst the top of that list as Chris Weidman takes on Gegard Mousasi.
A former kingpin of the middleweight division, Chris Weidman has tasted adversity and then some since losing his title in 2015. With his comeback in The Garden being spoiled by Yoel Romero last November, Weidman will now attempt to get back on the horse in Buffalo, New York.
Looking to crash the homecoming party is Gegard Mousasi, a well-traveled veteran who is now finally coming into his own on the big stage. Carrying the momentum of a four-fight winning streak behind him, Mousasi could score his highest ranked scalp to date as he seeks to make a statement here.
Starting off on the feet, we have a battle of two solid strikers who conduct their business in different ways. Though his highlight reel may not speak as loudly, I feel that Mousasi is the more technical striker as I give him a slight edge standing.
Displaying little flash or knockout power, Mousasi has primarily scored his stoppages through accurate placements and technical superiority. Despite appearing unenthusiastic, the Dutchman is secretly searching for defensive openings to exploit as he reads opponents.
Wielding one the best jabs in the division, Mousasi's ability to manage distance will certainly be the key factor in this fight. If Gegard can find a home for his jab early, then he will likely dictate the terms of the striking stanzas which may in turn help mitigate takedown opportunities.
However, should Mousasi fail to get a grasp on exchanges, then he will likely be subject to the pressure game of Chris Weidman. A persistent stalker, Weidman does an excellent job of keeping the temperature high while managing the distance with an almost preternatural sense.
Typically using his left hand in a pawing or feinting fashion, Weidman has a good feel for when to throw strikes with his opposition and how to capitalize in exchanges. Whether he is throwing a body kick or doubling up on strikes to get an angle, Weidman makes it difficult for his contemporaries to keep up with him.
That said, Weidman has steadily been caught more often, and with greater effect in recent history as this could be signs of a subtle trend. Despite improvements to his head movement and hand positioning, Weidman tends to get a little too comfortable exchanging inside(for my liking anyway) as his attitude and confidence has consistently got him caught here.
In his victories over Lyoto Machida and Vitor Belfort, we saw Weidman wave on his opposition's attacks and eventually get the win. However, if you look closely to his post-fight behavior and speech, you can see and hear just how hurt Weidman may have been(asking what happened, etc.).
Nevertheless, Weidman will not be the only one who is playing with fire on the feet as Mousasi can sometimes get too comfortable himself, especially when throwing kicks. Sometimes throwing his kicks naked(without strikes for setup), we have seen Mousasi countered with effect.
Although Weidman is not your typical counter-fighter, he carries an accurate counter-cross that he seemingly keeps at the ready. Weidman also demonstrates a knack for catching kicks and countering, something I would not be surprised to see him do here given the layout of this matchup.
Regardless of how well Weidman does on the feet, I suspect he will look to take this fight to the floor as soon as the first opportunity arises. Despite Mousasi being no slouch on the mat, top-heavy grapplers have traditionally troubled the Dutchman during his career as wrestling would seem like the path of least resistance for Weidman.
When looking at the wrestling tendencies and strengths of each fighter, potential grappling exchanges become even more intriguing. For example, the majority of Weidman's takedown attempts and successes happen in the open floor via reactive shots.
Considering that defending reactive shots in the open are amongst the highest checkmarks for Mousasi, the temperature of the fight could considerably rise should Weidman get stuffed on his initial attempts.
In that same spirit, I will also be interested to see if Weidman takes a page out of Jacare Souza's playbook by applying wrestling pressure against the fence. Though Weidman has not had to utilize cage wrestling as much in this last half of his UFC career, he has the tools to find success there as we saw Souza exploit Mousasi in this space, steadily wearing him down with pressure.
That said, Souza also had the luxury of fighting Mousasi inside of the small cage, an amenity Weidman will not have, which means that the All-American will likely have to put more of himself out there in order corral his opposition into any type of grappling range.
With Weidman successfully taking down every opponent he has stepped into the Octagon with, I do not doubt that he can take down Mousasi one way or another. The problem, I feel, is that if Weidman fails to keep Mousasi down and or do damage to him, his efforts may be in vain as the pressure he applies may only wake up the dog inside of the Dutchman.
Even if Weidman surpasses Mousasi's defensive fundamentals of hip positioning and grip awareness, the Dutch fighter is particularly crafty from his back as he will only retain guard with the intention to set up a sweep or scramble. Demonstrating doses of improvements in this area since losing his title to Mo Lawal back in Strikeforce(2010), I would have to imagine that counter grappling is priority number one for Mousasi here.
Though his patent jab can serve as a launching pad for reactive shots of his own, I see the jab of Mousasi playing a crucial role in his takedown defense a la Georges St-Pierre versus Josh Koscheck. Should Mousasi find his mark early and often, it could forecast a long night the former champion in Chris Weidman.
With this being a battle where I admittedly had a lot of trouble picking a winner, I ultimately recommend you avoid putting either fighter in your parlay as you are better off sitting back and enjoying this high-level affair.
If this matchup did not come at this particular time in Weidman's career, then I would pick him to win a clear decision over Mousasi via wrestling pressure. But with Weidman coming off of two potential life-changing losses, I have a hard time pulling the trigger on him to turn things around against the contender who arguably has the most consistent momentum in the division right now.
Official Pick: Mousasi – Decision
Official Outcome: Mousasi – TKO (round 3)
Fighter Name and Record
Staple info:
Height: XXX Age: XX Weight: XXX lbs Reach: XX"
Last Fight:
Camp:
Stance/Striking Style:
Risk Management:
Supplemental info:
+   
+  
+
+  
+  
+  
Fighter Name and Record
Staple info:
Height: XXX Age: XX Weight: XXX lbs Reach: XX"
Last Fight:
Camp:
Stance/Striking Style:
Risk Management:
Supplemental info:
+
+
+
+
+
+
Summary:
In a fun strawweight scrap, Cynthia Calvillo squares off with Pearl Gonzalez.
With her debut only coming one month ago at UFC 209, Cynthia Calvillo makes a quick turnaround as she now finds herself on another main card. Though tasked with welcoming a newcomer, Calvillo will be facing a competitor who nearly doubles her professional and amateur experiences.
A fighter who has been on the UFC radar for some time, Pearl Gonzalez will finally get her chance on the big stage. Sidelined by injury for the better part of this last year, Gonzalez has had plenty of recovery and prep time ahead of this bout as she looks to make a statement.
Starting off on the feet, I give a slight edge to Gonzalez as her amateur boxing background shines through in her technics. Keeping calm and composed, Gonzalez throws a nice variety of straight punches, often set up by check hooks.
Though her reach along with her technique could give her an edge at range, I believe that Gonzalez's head kicks may serve her well against Calvillo. Despite slipping her head nicely when throwing punches, Calvillo has a tendency to exaggerate this motion in space as this can inherently invite head kicks to land.
That said, Calvillo is only four fights into her professional career as she has shown fight-to-fight improvements in all areas of her game. That is the problem with trying to forecast fighters in budding female divisions as their sample sizes are often small and deceiving.
In watching recent footage, Calvillo's specific technics and overall arsenal seem to be growing, though it is still not clear how much of that will translate into the Octagon.
What is clear, is that Calvillo's unabashed aggression and execution will likely serve her well against Gonzalez, who despite her boxing background, has a tendency to back out of exchanges with her head upright upon being pressured.
Regardless of how the striking stanzas go on the feet, I feel that the winner of this fight will be decided on the floor. Both females are strong transitional grapplers who will show flashes of brilliance throughout the fight, but I believe that Calvillo is the better wrestler and positional player.
Whether she is working along the fence or reacting in the open, Calvillo displays a natural ability in her wrestling. Even defensively, Calvillo demonstrates a solid sprawl that feeds nicely into her front-headlock series, a game that is growing at a rapid rate under the care of Team Alpha Male.
However, Gonzalez is the type of fighter who is not easy to stop as she possesses the dogged nature that keeps her in fights until the end. Drawing Cortney Casey early on in her pro career, we would see Gonzalez drop rounds and almost succumb to multiple submissions before eventually catching Casey with an armbar at the end of the third round.
Although the oddsmakers have Gonzalez as a clear underdog, I feel that this fight will be a lot more competitive than what the current betting lines suggest.
Nevertheless, it is hard to back a debutant who has only fought once in 20-months, especially coming off of an injury. And though Gonzalez appears to be in peak condition heading into this bout, I ultimately feel that the wrestling of Calvillo will make the difference in what should be a back-and-forth affair.
Official Pick: Calvillo – Decision
Official Outcome: Calvillo – Submission (round 3)
Fighter Name and Record
Staple info:
Height: XXX Age: XX Weight: XXX lbs Reach: XX"
Last Fight:
Camp:
Stance/Striking Style:
Risk Management:
Supplemental info:
+   
+  
+
+  
+  
+  
Fighter Name and Record
Staple info:
Height: XXX Age: XX Weight: XXX lbs Reach: XX"
Last Fight:
Camp:
Stance/Striking Style:
Risk Management:
Supplemental info:
+
+
+
+
+
+
Summary:
In a potential welterweight war, Thiago Alves will meet Patrick Cote.
A former title challenger who has since been plagued by injuries, Thiago Alves is more than familiar with adversity. Briefly flirting with the lightweight division, Alves will now return to his natural home of 170-pounds after a botched weight cut last November.
Serving as the Brazilian's welcoming committee is fellow UFC veteran, Patrick Cote. Despite surmounting a late-career resurgence since dropping to welterweight, Cote would ultimately suffer his first stoppage loss(to strikes) last June as he looks to bounce back here.
Initially known for his pocket brawling abilities, Patrick Cote has steadily sharpened his technical kickboxing game.
Consistently stalking his opponents, Cote compliments fundamentally sound footwork with feints in the effort to draw out his opposition's counters. Considering the kicking acumen of Alves, I suspect Cote will double up in the feinting department as he did against previous kicking threats in Donald Cerrone & Stephen Thompson.
However, Cote lost those bouts as I believe there may be similar themes that show themselves here. For example, in coming forward consistently, Cote tends to keep heavy on his front foot––making him more susceptible to leg kicks.
Considering that Thiago Alves is one of the most devastating leg kickers in the organization, this could be a developing story to look for should the French-Canadian fail at catching and or countering those baseball bats.
I also feel that the knees of Alves will be a strike worth watching for in this fight. Whether he is feinting a takedown, loading his right hand, or looking to evade punches, Cote has a propensity to drop his level drastically in close as he has eaten knees throughout his last handful of fights.
With Thiago Alves owning 5-official stoppages by way of knees, we could see Cote's legendary chin once again be subject to harsh weather. That said, the French-Canadian will still have multiple ways to answer Alves' offensive threats.
In the spirit of winning rounds, Cote also has shown a knack for late-round takedowns that have been a staple in his resurgence. Showing a decent reactive shot, most of Cote's improvements come off of his single-leg chains and finishes.
Even though Alves has made clear improvements to his wrestling over the years, the book is arguably still the same in regards of how to beat him––grappling pressure.
In Alves' defense, the bad weightcut(though obviously his fault) took a toll on his last performance as the Brazilian was much slower from the start. Couple that with the fact that he was facing a criminally underrated fighter in Jim Miller, and you can start to see why I am not necessarily ready to condemn Alves off of that fight.
Nevertheless, if Cote can get Alves to the ground, the French-Canadian should have a solid advantage. A Brazilian Jiu-jitsu black belt who translates his game well to MMA, Cote is an excellent positional player who stays active on top with ground strikes.
A decent scrambler as well, Cote has shown to be particularly sharp off of his back as he has threatened fighters who have held on-paper advantages in those areas. However, it is the competitive streak of Cote that worries me in this matchup as I am not sure he still has the chin to support his style of aggressive offense.
When I picked Jim Miller to beat Thiago Alves last year, it was not just because of a perceived grappling discrepancy, but because I also felt that Miller's arsenal was a stylistic antithesis to Alves' standing. And though Cote has a grappling edge over Alves as well, I believe that the Brazilian's style will prove to be kryptonite for the French-Canadian should he fail to take down his opposition with consistency.
Official Pick: Alves – Inside the distance
Official Outcome: Alves – Decision
Fighter Name and Record
Staple info:
Height: XXX Age: XX Weight: XXX lbs Reach: XX"
Last Fight:
Camp:
Stance/Striking Style:
Risk Management:
Supplemental info:
+   
+  
+
+  
+  
+  
Fighter Name and Record
Staple info:
Height: XXX Age: XX Weight: XXX lbs Reach: XX"
Last Fight:
Camp:
Stance/Striking Style:
Risk Management:
Supplemental info:
+
+
+
+
+
+
Summary:
Kicking off the main card in Dallas is a fun fight in the lightweight division as "Ill" Will Brooks takes on Charles "Du Bronx" Oliveira.
Coming off a disappointing defeat that saw him suffer an injury before the actual end, Will Brooks will look to bounce back from what is just his second professional loss.
Drawing another Brazilian with the same last name, Brooks will meet Charles Oliveira, a former featherweight who is moving up to lightweight after a string of shortcomings on and off of the scale.
An anomaly of athleticism, the term "natural ability" is an understatement when used to describe Will Brooks. Despite no combat sports or collegiate base, Brooks has developed into one of most well-rounded fighters in MMA's deepest division. His victories over Michael Chandler alone were proof of this, as Will was able to out wrestle the 4x NCAA qualifier en route to a Bellator title.
Whether he inside the clinch or intercepting his opposition with a knee, Brooks is accurate with his shot selection. Favoring to fight from the outside, Brooks wields kicks that come from all angles and hit with palpable force. More impressively, Brooks maintains a solid sense of awareness when attacking, as he can seamlessly transition from striking to defending shots with ease.
An efficient puncher, Brooks rounds out his game nicely as he strikes well inside of the clinch and off of the breaks. Bearing a solid base and balance, Brooks defends effortlessly from the clinch as he usually looks to manage the fight's pace from there.
Despite Brooks' abilities inside of the clinch, his comfort there can be a quiet kryptonite to his style when facing fighters who specialize in this space. In looking at Brooks' last fight, one could argue that his propensity to fight inside of his opposition's wheelhouse was what ultimately opened him up for injury.
Nevertheless, Brooks will need to mind those trappings in this matchup as he is facing another fighter who makes his money in small spaces. An unabashed pressure-fighter, Charles Oliveira shows little regard for defense as his offensive mindset speaks loudly through his repertoire.
Although Oliveira will undoubtedly be open for counters as he comes forward, the Brazilian welcomes these engagements as his game is built to capitalize inside of chaotic, close quarters. Whether he is unleashing knees and elbows or looking to take the fight to the floor, "Du Bronx" can instantly become dangerous whenever you are within his grasp.
With Oliveira's upright stature, coupled with his previously mentioned offensive mindset, the Brazilian has typically been troubled by body shots. Consistently reverting to a shell defense, Oliveira has traditionally been susceptible to these type of blows.
In fact, 2 out of 3-TKO losses sustained by Oliveira were triggered by body shots that seem to have crippled him. Considering that intercepting knees and kicks to the midsection are a strong suit for Brooks, expect the American to look for these openings throughout the fight.
As alluded to earlier, this fight gets tricky when it hits the clinch. A place that is usually considered a safety zone for Brooks now becomes a consistent danger zone to the touch as Oliveira needs only but a limb to initiate his sticky style of clinching.
It will be interesting to see what adjustments Brooks makes to his clinch game and overall grappling approach, especially in the under-hook and head position department when considering what Oliveira can do with the grasp of a neck or over-hook.
That said, it was the Brazilian who fell victim to the trap of an under-hook get up in his last two fights, suffering consecutive Guillotine losses.
Regardless of this, Oliveira should still have the overall submission edge in this contest. And it is not the first attempt of Oliveira that you need to worry about as the Brazilian chains submissions one-after-another like he is firing them from an M-60 machine gun. Oliveira will use this diverse approach to force his opposition into poor decision making as he capitalizes on traps or drowns them in interweaving submission waves.
Although Brooks' willingness to engage his opponent's strength can sometimes be head scratching, his top game and submission defense are superb. We got to see a good look at these skills in action when Brooks went five rounds with Marcin Held back in Bellator(when Brooks was the champion).
Demonstrating an excellent understanding of leverage and positional awareness, we saw Brooks utilize intelligent defense by crossing his legs when appropriate(to defend leg locks) as he floated from position-to-position, keeping his hips right where they needed to be.
Even when executing his takedowns, Brooks still shows a solid awareness of his posture and hips, rarely exposing himself to Guillotines. Favoring his attempts from the body lock, we could see Brooks take the path of his American Top Team stablemate, Nik Lentz.
Utilizing a body lock takedown, Lentz was able to mitigate much of the Guillotine threats from Oliveira in transition as well as potential guard attacks once hitting the floor. Landing in side-control, Lentz was able to do damage to "Du Bronx" despite eventually getting caught in said Guillotine.
Though I feel that Brooks can successfully navigate these trouble spots and control the terms of this fight, I do recommend caution in playing him here. As per usual, Charles Oliveira often brings a "trap feel" to his fights as he is as dangerous an opportunist the division has to offer. Expect excitement from start to finish as I see Brooks finding a finish late after surviving more than his fair share of close scares.
Official Pick: Brooks – Inside the distance
Official Outcome: Oliveira – Submission (round 1)
Preliminary Card Predictions:
Jury def. De La Torre
Usman def. Strickland
Burgos def. Rosa
Cummins def. Blachowicz
Gillespie def. Holbrook
Emmett def. Green
Chookagian def. Aldana
Bibulatov def. Lausa
For my complete works of past UFC breakdowns and analysis visit MixedMartialAnalyst.com and for future breakdowns & your latest in world-wide MMA news, stay tuned to FloCombat.com

---