UFC 208: Holm vs De Randamie Breakdown
by Daniel Tom on Friday, February 17th, 2017
No Comments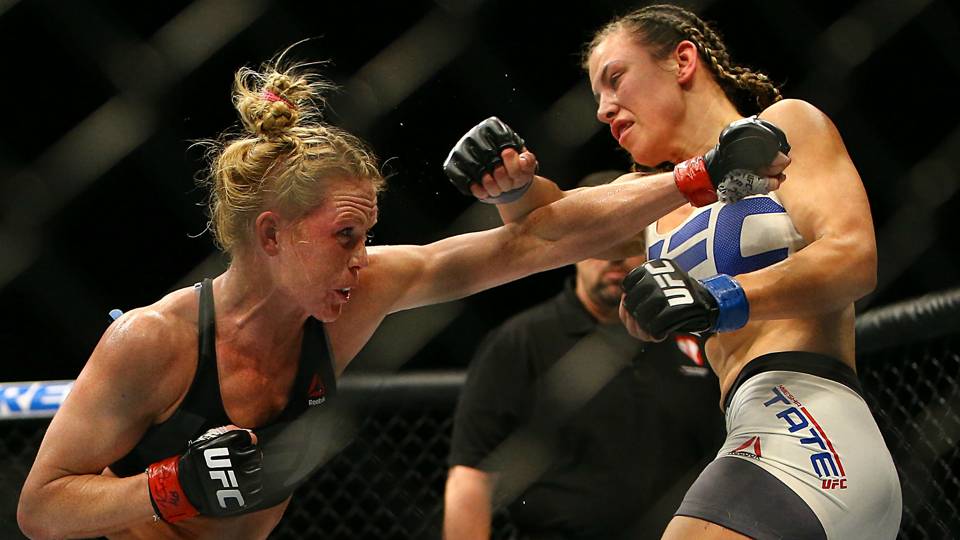 ***ARTICLE UNDER CONSTRUCTION***

Saturday, February 4th, 2017 in Houston, Texas for UFC Fight Night 104: "Bermudez vs. The Korean Zombie" by Daniel Tom

The opinions expressed in this free content are for entertainment purposes only, as my goal here is to provide analysis for those who enjoy the technical or gaming aspects of our sport. If you choose to gamble, I recommend doing so responsibly and legally as it is at your own risk. Enjoy the fights!
Fighter Name and Record
Staple info:
Height: XXX Age: XX Weight: XXX lbs Reach: XX"
Last Fight:
Camp:
Stance/Striking Style:
Risk Management:
Supplemental info:
+
+
+
+
+
+
Fighter Name and Record
Staple info:
Height: XXX Age: XX Weight: XXX lbs Reach: XX"
Last Fight:
Camp:
Stance/Striking Style:
Risk Management:
Supplemental info:
+
+
+
+
+
+
Summary:
The main event in Brooklyn features the UFC's debut of a female featherweight division as Holly Holm and Germaine De Randamie will decide whose name will hit the history books first.
A fighter who was long-awaited to make her appearance in the UFC, Holly Holm took the MMA world by storm when she scored a knockout over Ronda Rousey back at UFC 193 to earn the bantamweight strap. Since then, the Jackson-Wink product has been on a dry spell, dropping her last two fights in succession. Not one to back down from a challenge, Holm will step back into the main stage spotlight to take on another high-level striker.
Coined 'the female Anderson Silva' early on in her MMA career, Germaine De Randamie comes into the UFC as one of the most accoladed Muay Thai fighters next to Valentina Shevchenko. Boasting an impressive pro record of 46-0 with 30 wins by way of knockout, the Dutch fighter would jump right into the thick of things as she took on veteran fighters in the Strikeforce organization. Taking the knocks and knowledge that strikers often face when trying to translate their game, De Randamie will now get a chance to showcase her skills and earn her first title in MMA.
In a fight that should primarily contest standing on paper, we have an intriguing matchup of two skilled-strikers who have two different styles. More of a stick-and-move stylist, Holm demonstrates excellent footwork and distance managements as she plays just outside of range. Utilizing her lateral movement until finding an opening to her liking, Holm will engage in strafing runs, throwing a variety of pre-programmed combinations.
Although Holm's racehorse-like efficiency and discipline are impressive, she can be a bit predictable in the plays that she runs. A consistency of patterns that she carried over from boxing, Holm will usually circle to her left to reset, and move to her right when attempting to achieve attack angles. In resetting/circling to the left, Holly gets her opposition to follow her as she will then quickly strike and exit off to an angle.
When doing so, Holm does a good job of getting her head offline as she throws her patent cross down the center as I feel that will serve her well in this fight. In facing a more traditional Muay Thai striker like Germaine De Randamie, abusing the centerline with straight punches may be her best bet as that can often disrupt the setting process of various tools in the Thai striking system(as I referred to this in my Masvidal-Cerrone breakdown).
Despite De Randamie being undefeated in Muay Thai, the Dutch fighter would come close to defeat when Brenda Duijdeveld used straight punches to disrupt an oncoming De Randamie. However, not only will Holm have to be presistantly on point to execute and or dissuade De Randamie, but she will also need to mind how much she exchanges with her––and how she exits those exchanges.
Holm, who will sometimes lunge with low-hands when attacking, also tends to exit exchanges unprotected on her left side. Upon further film study, I found that an unprotected head was a common theme for Holly when exiting and entering exchanges dating all the way back to her first fight with Ann Sophie Mathis. Though Holm came back to defeat Mathis later in her career, we would see Holly's point scoring style personified as she edged out rounds and avoided exchanges.
Although Holm's sensibilities initially translated well to MMA(especially when it came to shutting down grapplers who wanted to get her down), Holm's patterns would be sniffed out steadily when pitted against more competent strikers.
We saw a less accoladed striker in Raquel Pennington eventually pick up on Holly's tendencies, as Raquel was able to land counter right hands with regularity by the third round. And in my upset call of last Summer, we saw Valentina Shevchenko land check right hooks with regularity as she exploited the openings mentioned above. For that reason, I feel that De Randamie's right cross and high kick will be the key strikes to watch out for in this fight.
Like many high-level Muay Thai strikers, De Randamie seldom throws herself out of position when stalking down her prey. Utilizing her jab much more in recent years, De Randamie puts together her punches nicely as she throws an accurate cross from her power side. Intelligently reading her opposition's exits and retreats, De Randamie will corral said range with devastating head kicks that she uses to punctuate her combinations.
If Holm cannot establish her rhythm and disrupt De Randamie's early, then she may be forced to make similarly uncomfortable moves as we saw in her last fight if the former champ means to maintain her round-winning style. Although I feel this would be a great fight for Holm to unveil any potential offensive wrestling she has in her back pocket, I also feel that opportunities will be few and far between as I suspect Holm will avoid clinching with the Muay Thai champion.
Even though Holm surprised us all with her counter clinch abilities against Rousey, her game his mainly defensive as I am not sure her technics translate well against Thai fighters. Despite working well with under-hooks or over-hooks, Holm's framing style primarily protects her hips from takedowns as well as the occasional knee disruption(when framing forearms off of over-hooks).
The potential problem with that approach against a fighter like De Randamie is not only can she switch off to elbows up high when being disrupted down low, but she also operates best from an over-under clinch position, a position that is easily attainable from Holm's preferred clinch style. Furthermore, De Randamie will utilize an awkward but effective variation of the Thai clinch from here.
Instead of connecting her hands in a traditional Thai plum around the back of her opponent's head, De Randamie will utilize a palm-to-palm grip variation off the over-under position as she connects her hands high around the back of her opposition's head and neck. Not only does this allow De Randamie to steer her counterpart, but it also allows her to strike them with impunity as we saw this on full display against Julie Kedzie.
However, if this fight does find its way to the floor, the woman who ends up in top position will likely be the one who has the edge given both of their past struggles from the bottom. With the oddsmakers agreeing that this is a close fight, I would avoid any plays heavily on either fighter here.
Although I could see an on point Holly Holm edging out scorecards with her volume, I feel that De Randamie will find a home for her check hooks and counter-crosses, which I believe will ultimately open up a corralling head kick finish. On the flip side, Holm could prove many of us wrong as she finds herself in a position that is unprecedented––being right in the middle of three devastating defeats, or forever a place amongst history's elite.
Official Pick: De Randamie – Inside the distance
Official Outcome: To be determined.
Fighter Name and Record
Staple info:
Height: XXX Age: XX Weight: XXX lbs Reach: XX"
Last Fight:
Camp:
Stance/Striking Style:
Risk Management:
Supplemental info:
+
+
+
+
+
+
Fighter Name and Record
Staple info:
Height: XXX Age: XX Weight: XXX lbs Reach: XX"
Last Fight:
Camp:
Stance/Striking Style:
Risk Management:
Supplemental info:
+
+
+
+
+
+
Summary:
The co-main event of UFC 208 features a battle of Top-10 middleweights as Anderson Silva squares off with Derek Brunson.
A legend who needs no introduction, Anderson Silva has done just about everything one can do to have a legendary career in MMA. Now angling for a rematch with the current champion, Michael Bisping, Silva will first need to take care of the young lion put before him.
One of the division's dark horses who was on a five-fight winning streak until his last fight, Derek Brunson was seeking desperately to get back on the horse as he jumped at this opportunity. With the biggest matchup of his career now ahead of him, Brunson will look to seize the moment and not be overtaken by it as he takes on a former idol.
Starting off on the feet, Silva should have the clear on-paper edge standing, but Brunson is not all that far behind as the former All-American poses some threats of his own. Subtly stalking as he uses a shuffle-step variation to come forward, Brunson will put himself in prime position to land shots from the power side of his southpaw stance.
Although he is known for his devastating left high kick, I feel that Brunson's left cross will serve him well in this fight. An accurate strike in his repertoire, Derek could find success against a fighter who is reliant on his reaction times like Anderson Silva is.
From the psychological warfare of low-handed taunts to his accurate and intercepting counter strikes, Anderson Silva has made his money by confidently coordinating high-risk situations.
Despite this style working well for Silva throughout the majority of his career, speed is often the first thing to go amongst aging fighters as the legend could pay for leaning on those attributes too heavily. However, I do feel that the outline of this striking matchup favors the former champion.
Even though selling out on his strikes could pay off big for Brunson, the All-American has a tendency to throw himself out of position when engaging his opposition as we saw it eventually catch up with him once again in his last fight. Couple that with the fact that he is facing arguably the best counter striker this game has seen, a lapse in technique or discipline could cost Brunson dearly.
Now, do not jump to conclusions from that last sentence as I concede that Silva's prime left the train station a long time ago. That said, even though we are now looking a different fighter, I still feel that Silva has enough sharpness and self belief left in the tank. In fact, if Brunson gets careless, I could see Silva hitting check hooks and counters early and often, even at this advanced stage of his career.
Although Brunson could conceivably outwork Silva(as the former champion's volume has been questionable at times), I believe that even a disciplined Brunson may be at the mercy of splitting jabs and head kick setups. Not only is Silva the better on paper striker, but I also think he does better in southpaw versus southpaw matchups.
Regardless of his chances on the feet, I feel that Brunson's best bet will be by taking this fight to the floor. Even though Brunson does not typically counter with strikes, he is not shy about using a reactive shot to disrupt his opponent's forward pressure. Despite not always having the cleanest entries, Brunson will use his initial grasps to push his opposition to the fence or re-wrestle in for a better takedown.
If he can ground the Silva, then we could see Brunson possibly wear the legend down as he possesses excellent top pressure once he gets going. However, if Brunson fails to ground the former champion on his initial attempts, then we may see the All-American forced to tangle inside of Silva's clinch.
Even if this once revered area has become more tourist friendly in recent years, Silva still carries the power to punctuate as he also possesses much more depth to his toolkit. That said, Brunson is one of the most pontent strikers in the sport when it comes to delivering blows off of the break as I feel that will be his best shot at stopping the legend.
Although Brunson has the skills to pass, stop, or submit Silva on paper, Silva has shown to be an effective stifler despite his questionable choices on the floor. Couple that with past fighter's propensities to let Silva off the hook(due to what is arguably subconscious respect), Brunson could get caught cruising, especially if he gets in his head or loses focus after failing to take out his opponent early.
Another point worth noting is that Silva seldom slows down or tires, even in his most questionable and or poor performances. Brunson, on the other hand, has a propensity to slightly slow and labor come the third round in both victory and defeat. Considering that the third round has traditionally been one of Silva's strongest, things could get interesting come the final frame, even if Brunson is up two.
With this being a match where I initially came in one way only to leave leaning the other, I suggest strong caution in plays as I feel this is a loaded matchup. Though I agree with the oddsmakers in slightly favoring Brunson as he arguably has more paths to victory, there are too many intangibles at play for me to back him confidently here.
Perhaps if Brunson had a full training camp at Jackson-Wink MMA for this fight(as well as a full recovery time from his last one), then I could feel better about his chances. Call it optimism or wishful thinking if you must, but I ultimately see this battle in Brooklyn playing out like "Big Nog's" victory over Brendan Schaub in Brazil.
Official Pick: Silva – Inside the distance
Official Outcome: To be determined.
Fighter Name and Record
Staple info:
Height: XXX Age: XX Weight: XXX lbs Reach: XX"
Last Fight:
Camp:
Stance/Striking Style:
Risk Management:
Supplemental info:
+
+
+
+
+
+
Fighter Name and Record
Staple info:
Height: XXX Age: XX Weight: XXX lbs Reach: XX"
Last Fight:
Camp:
Stance/Striking Style:
Risk Management:
Supplemental info:
+
+
+
+
+
+
Summary:
Official Pick: #####
Official Outcome: To be determined.
Fighter Name and Record
Staple info:
Height: XXX Age: XX Weight: XXX lbs Reach: XX"
Last Fight:
Camp:
Stance/Striking Style:
Risk Management:
Supplemental info:
+
+
+
+
+
+
Fighter Name and Record
Staple info:
Height: XXX Age: XX Weight: XXX lbs Reach: XX"
Last Fight:
Camp:
Stance/Striking Style:
Risk Management:
Supplemental info:
+
+
+
+
+
+
Summary:
In a fun light-heavyweight matchup, Glover Teixeira meets Jared Cannonier.
Despite coming off a crushing defeat to Anthony Johnson in August of last year, Glover Teixeira had some solid momentum going for himself prior as he put together three consecutive stoppage victories. Looking to recreate that resurgence, Teixeira will first have to stop the division's new blood from broaching his spot.
An out of nowhere contender who hails from the middle of nowhere, Jared Cannonier's seriousness shows in the commitment that he puts into this sport. With his skills on full display in his last fight with Ion Cutelaba, Cannonier will now test himself against what is by far the biggest name of his young career as he takes on the former Brazilian title challenger.
Starting off on the feet, we have a battle between two fighters who look for the finish––but in different ways. A more traditional stalker, Teixeira will steadily come forward as he looks to ply pressure, pushing his opponent back and forcing them to answer. Often starting the party with a lead right hand, the Brazilian will bait his opposition into exchanging as he keeps his cleanup-hitting left hook at the ready.
Although Teixeira will seldom throw himself out of position, it is when throwing his lead cross where the Brazilian tends to lean forward and expose himself to uppercuts and left hands. Although these may be small openings I am referring to, leading off with your power hand is a tactic where the risk only increases with age as it is timing based.
Despite Cannonier having a hard right hand and uppercut to go with it, I feel that his left hand may be the weapon to watch for in this fight. With Teixeira having a tendency to lead with his right, left hooks are often his common culprit in exchanges as he tends to get clipped with checks or collisions(as seen in his fights with Jones, Bader, and to an extent, Johnson).
Usually shifting his stance pre or post-striking stanza, Cannonier can also do so mid-combination ala TJ Dillashaw. Though the heavyweight fighter is a long way from the former bantamweight champion, Cannonier's quickness and athleticism are without a doubt a strong factor in his footwork. Furthermore, Cannonier shows an intelligence and depth of technique that you would not expect based on his staple information.
Although Cannonier's best chances of closing the show are on the feet, I could see things potentially going south for him should he go too much to his body kicks. Despite Cannonier's capability of throwing hard teeps and Thai kicks with effect, I believe that Teixeira is more capable of catching those kicks and turning them into takedowns, as the Brazilian has shown a knack to do so in his fights.
Cannonier will also need to mind playing along the outside as Teixiera tends to push for takedowns whenever he can get his opponents to the fence. Whether he is shooting traditional double-legs or running his chains off of his favored head-outside single, Teixeira should be more than able to take Cannonier down on paper as the Alaskan-based fighter has failed to defend practically every takedown thrown his way inside of the Octagon.
That said, Cannonier has made measurable efforts in his wrestling improvements as it shows through in his ability to get up. Despite retaining guard a bit too much for my liking in MMA, Cannonier demonstrated that he could create space and scrambles when necessary as he would either push off the hips or turtle up-and-out of trouble spots. However, Cannonier may not get away with these techniques against Teixeira as easily as he did with Ion Cutelaba, a fighter who has a much different style.
As we saw in Teixeira's fight with Ovince Saint Preux, the Brazilian can close the show if you turtle-out or expose your back. A smooth pressure passer, Teixeira is a master chef when it comes to cooking his opposition underneath him. Methodically(and brutally) using ground strikes, Teixeira adds fuel to the fire as he force-feeds his opponents into head & arm chokes if they turn into them, or rear-naked-chokes if they turn way.
With Teixeira coming off of a loss and facing another young lion, I expect his intentions to play out very similarly to his fight with Ovince Saint Preux. Given Cannonier's past struggles in defending shots, I expect Teixeira to test him by attempting to exploit these holes before they are shored up. Should Cannonier keep this standing, then we could see Teixeira's ticket stamped as this could very well turn into the "changing of the guard" show.
Ultimately, I'll be siding with what I see on paper as I feel the Brazilian has enough fight left in him to quell this rising contender with a submission stoppage.
Official Pick: Teixeira – Inside the distance
Official Outcome: To be determined.
Fighter Name and Record
Staple info:
Height: XXX Age: XX Weight: XXX lbs Reach: XX"
Last Fight:
Camp:
Stance/Striking Style:
Risk Management:
Supplemental info:
+
+
+
+
+
+
Fighter Name and Record
Staple info:
Height: XXX Age: XX Weight: XXX lbs Reach: XX"
Last Fight:
Camp:
Stance/Striking Style:
Risk Management:
Supplemental info:
+
+
+
+
+
+
Summary:
Official Pick: #####
Official Outcome: To be determined.
Preliminary Card Predictions:
Muhammad def. Brown
Reis def. Sasaki
Makhachev def. Lentz
Brooks def. McCall
Tybura def. Willis
Laflare def. Carneiro
Glenn def. Nover
For my complete works of past UFC breakdowns and analysis visit MixedMartialAnalyst.com and for future breakdowns & your latest in world-wide MMA news, stay tuned to FloCombat.com

---