A Faith in Fire: The Poetry of BJ Penn
by Daniel Tom on Monday, January 16th, 2017
2 Comments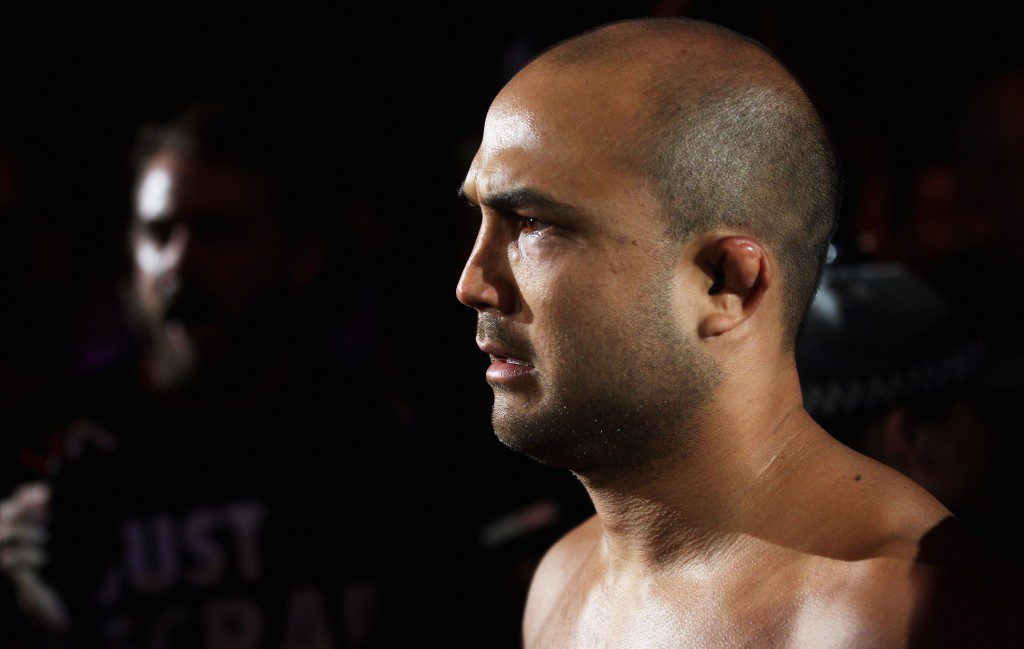 "The bravest sight in the world is to see a great man struggling against adversity. – Seneca"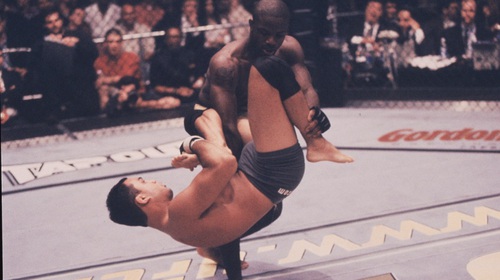 Salad Days
Like most stories in mixed martial arts, this one starts quickly as a chain of islands in the Pacific Ocean would grace us with an unsuspecting warrior that would help shape the landscape of our sport.
Growing up on an island like Hawaii, it can be hard to avoid many things whether it be comfort or confrontation. When you're young, this often means the latter as BJ Penn was never shy about his appetite for fighting from a youthful age.
Like many great fighters, Penn had two brothers to bounce between—Reagan and JD—which more than likely kept his competitive juices going. Thankfully, he also had a solid support system with his family and community as well.
Taken in at a young age by neighbor and martial arts instructor Tom Callos, it became apparent early that Penn's passion for fighting was more than just teenage angst and academic interest. And as most kids get sent off to college at 17 years of age, Penn was sent to San Jose, California to train with the Gracies.
Through Ralph Gracie, his coach, Penn would establish relationships with the likes of Cesar Gracie and Dave Camarillo, people who would ironically corner against the young Hawaiian in the MMA realm years later. Nevertheless, this was a different time, a pioneer's era where multiple martial art worlds were still quickly converging.
Through the network of Brazilian Jiu-jitsu(which was much more tight-knit at the time), we would see Penn leave Ralph Gracie as a purple belt to train with Nova Uniao. Already having an affiliation with Andre Pederneiras and his team through his competition travels to Brazil, the Hawaiian would end up earning his black belt under Pederneiras as well as earn himself a spot in the history books by becoming the first non-Brazilian to win a gold medal at the 2000 Mundials.
With the martial arts world being smaller than Penn would imagine, the Hawaiian found himself instructing private lessons to Dana White and Lorenzo Fertitta while visiting John Lewis in Las Vegas.
With the seeds planted, we fast-forward to May 4th, 2001.
Still affiliated with Nova Uniao, BJ Penn would enter his first MMA fight with the American Kickboxing Academy at his back. Through the friendship of his old roommate Dave Camarillo, we would also see the familiar faces of Javier Mendes and "Crazy" Bob Cook in the Prodigy's corner.
Although "The Prodigy" is a cool nickname that most (appropriately)associate with his BJJ credentials, I believe it is in Penn's first professional fight where we see the value in this name. Regardless of the name or accomplishments of one Joey Gilbert, many were excited to see what this "Jiu-jitsu kid from Hawaii" could do.
Even UFC matchmaker Joe Silva was vocal about his skepticism, and rightfully so. We saw many "black belts" and "world champions" enter the UFC with varying success, and still do. And though Penn's debut was over 15-years ago, he set the bar high as he would storm the scene like few before or since have.
A Brazilian Jiu-jitsu black belt, common knowledge would tell you that BJ Penn would want to take his opponents down and submit them. Instead, Penn came out and knocked out all three of his first opponents in a dynamic fashion.
Against Gilbert, Penn demonstrated a veteran composure and technical savvy as he would use a Guillotine choke as a threat to thwart takedowns as opposed to dropping for a hail marry and losing position. Considering that this scenario is a common folly point for the fighters of today, it is even more mind-boggling to think that Penn was demonstrating this type of IQ in his debut.
When facing veterans like Din Thomas or Caol Uno in his next fights, we would see Penn balance out sophistication with fire as he would end up fleeing the crime scene of an 11-second starching in just his third fight, a scene that many would try to recreate for years to come. These were the salad days.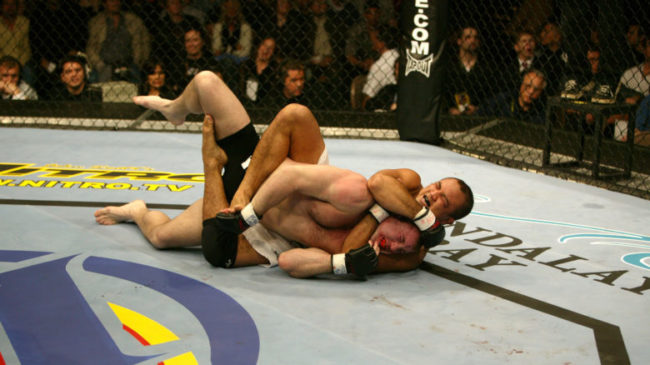 Superfight Shoots & Lightweight Ladders
A meteoric rise like no other at the time, BJ Penn found himself propelled into UFC title contention just 9-months past his professional debut. Standing on the other side of Penn, was the UFC lightweight division's first champion, Jens Pulver.
You can certainly make the argument that Penn was the biggest lightweight pioneer, but Pulver was undoubtedly the first. A staple product of the renown Miletich Fighting Systems, Pulver was already highly regarded in the sport as he held notable victories over names like Dennis Hallman or the previously mentioned John Lewis. And even though Jens held wins over common opponents in Din Thomas and Caol Uno, the oddsmakers would make the sitting champion a three-to-one underdog against the oncoming challenger, BJ Penn.
Another hard training camp in the books, Penn would quickly find himself back in the spotlight with the American Kickboxing Academy firmly behind him, as AKA believed they were truly on the verge of realizing their first championship as well. BJ Penn would come out composed, but with a gameplan you would have expected to see from the start of his career.
Utilizing his underrated wrestling abilities, Penn would pick his spots and look to change levels on the champion. Finding success with this approach late into the second round, Penn would establish the mount position on Pulver. Dropping back for an armbar in an attempt to beat the buzzer, it would almost appear that had Pulver tapped. However, despite the adjustment against the fence that Penn had managed to pull off, the bell had sounded as the referee ended the round.
What followed, was immediate pandemonium as the Penn's corner screamed: "he tapped!–he tapped!" And for the first time in his professional career, we would see the Hawaiian be forced to deal with adversity, at least in the emotional form. Now, make no mistake about it, we did not see Penn turn off in any sense, and Pulver was not exactly beaming with confidence when going back to his corner. But what we did see, was a more experienced veteran dig deep to pull a victory out of the scorecards and keep his title.
Penn, who said he would have retired should he had won another world title so fast, would now be humbled and sent back to the drawing board. After starting his career by traveling abroad, the Hawaiian would now train closer to home.
Still utilizing the likes of "Crazy" Bob Cook to corner him from UFC 37-41, we would see a slightly more measured fighter as Penn was seemingly still trying to work things out within his style and self. Beating the likes of Matt Serra, he would earn himself a spot in the lightweight tournament finals.
With Jens Pulver out of the organization due to contract disputes, this would be the UFC's second official attempt at establishing the lightweight division. And after a frustrating fight with Caol Uno, where Penn would fail in finding his submissions on multiple tries, the judges would ultimately declare the bout a draw as the UFC would once again fail to make a home for lighter weights on the main stage.
Frustrated with the state of the division, as well as his career, Penn did what many fighters have only talked about as he left the UFC to fight under terms of his own. Through his family and their business relations, "Rumble on the Rock" was created as this became a hotspot for a brief time in our sport's history.
Not following the trend of using hometown platforms to look good, Penn only wanted to fight the best as he brought in Takanori Gomi. With Gomi being the number-one ranked lightweight(at that time), this was the perfect fight to encourage Penn out of complacency.
Doing just that, we would see Penn rise to the occasion as his skills seem to hit another level. Displaying the back control that he would soon become renown for, BJ Penn became the unofficial lightweight champion of the world, and he did it in his backyard.
Scrambling to get a handle on this situation, the UFC was not only able to reel Penn back in, but they were also able to kill two birds with one stone. With the lightweight division still in shambles, the welterweight division had a warlord who had already decimated every contender as far as the eye could see.
Not only was Matt Hughes the welterweight champion, but he was also widely regarded as the sport's pound-for-pound number one fighter. At a certain point, they were also calling Hughes one of the strongest men in the sport as the UFC was quickly running out of accolades and opponents to give their champion.
Enter BJ Penn.
Now, with just enough fights into his career to cement his confidence, we start to see Penn experiment with themes that would eventually become his narrative: any weight, anytime. As crazy as the surface value of these ideas were, the Hawaiian knew inside that there were some things he would need to address as the smaller man moving up, mainly his wrestling.
At that time in the sport, there was one camp that was renown for their wrestling ability and hunger for multi-divisional domination, Team Quest. Making the trek to the Pacific Northwest, Penn would work under Matt Lindland, as well as spar with the likes of Randy Couture and Dan Henderson.
With the testimonials of the living legends mentioned above being filled with praise for Penn, the time was seemingly right for a kid from Hawaii to upset the world at UFC 46. Randy Couture was set to defend his title in a rematch with Vitor Belfort, but before that, Penn would challenge for Hughes' title.
With Hughes already defending his belt 5-times straight, the general thought was that another successful defense and new world record were inevitable. Eddie Bravo did his best Harold Lederman impression cage side, as Joe Rogan encapsulated both curiosity and skepticism when saying, "courageous or foolhardy, we're about to find out."
And before we knew it, history was made.
Hughes was still trying put together the pieces, and Penn was already celebrating on Cabbage Correira's shoulders. It was one of the most memorable moments in UFC history. What had seemed like a cocky kid, would immediately turn into a gracious soul as we saw the genuine innocence behind Penn's intentions.
But as beautiful as this moment was in the spectrum of the Hawaiian's history, it also marks a point of origin for the fires that sparked his super fight desires.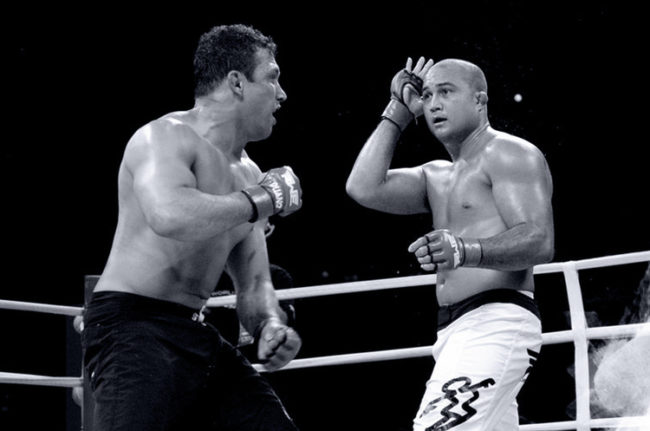 Lost In Translation
Not long after winning the title, the UFC would once again be dealing with a theme that is still prevalent today: a champion's terms.
I imagine that every champion's terms have their degree of varying difficulty, but BJ Penn's were apparently on another level. Wanting to spread his legacy by fighting all comers, at all weights, all around the world, the Prodigy would have to do so without the UFC's support.
And like that, the UFC had lost another champion to overseas competition as well as the number-one ranked pound-for-pound fighter in the sport.
That said, business continued along for the UFC as they moved on while Penn attempted his conquest of the remaining MMA world. For his first fight after leaving the UFC, Penn would come to Japan's Saitama Super Arena to face Duane Ludwig at welterweight. Making quick work of his opponent, BJ Penn would take his ideas and appetite's further by moving up to middleweight.
Returning home to compete in Rumble on the Rock once again, Penn would face Rodrigo Gracie, who was undefeated at the time. Although the Gracie fighter put up a valiant effort, it became quickly apparent that the two were on different levels of the fight game.
With Penn's physique looking noticeably different at this weight, so was his output as he failed to find a finish despite dominating. Regardless, the young Hawaiian would not slow down as he took his next fight at heavyweight.
Entering the K-1 Heroes tournament of 2005 in Japan, Penn would make history by just competing in what is still one of the best examples of open weight purity in Mixed Martial Arts competition. Although Penn would lose a competitive decision to a heavyweight Lyoto Machida, he would ironically be the closest person to defeating the undefeated fighter until Lyoto's UFC 104 meeting with Shogun Rua.
With no time to wallow in defeat, BJ Penn would quickly accept a challenge from Renzo Gracie, who was looking to avenge Rodrigo Gracie's loss. In an open weight match that would contest within the neighborhood of middleweight, we would see a similar outcome to his previous bout with a Gracie, as Penn would ultimately earn a clear decision.
After that, almost a year would go by before Penn finally found himself back inside of the Octagon.
Given an offer he could not refuse, we saw BJ Penn make his way back to the UFC wearing the belt he never lost as well as a shirt that said the champ was back.
Although the Hawaiian would lose the extra pounds to make welterweight without issue, the critiques of conditioning started to rear it's head as the evidence of Penn's commitment was said through his physique. In facing what was a fast-rising Georges St. Pierre, we would see Penn nearly get the job done in round one as he bludgeoned GSP, who could barely find or respond to his corner after the opening frame.
And similarly to his title fight with Pulver, we would see Penn hit a strange peak as his output and urgency would decline. Digging deep, St. Pierre would tough out takedowns en route to taking a controversial split decision.
Despite the famous quote of 'he went to the hospital and I went to the bar', the frame of mind would not change for Penn as he entered his next bout in a similar fashion. Though visibly tighter than his last time out, this next fight was taken on just three weeks notice, which meant that the same conditioning questions would apply.
Looking for some revenge, Matt Hughes was more than happy to accept the challenge. And once again, we would see Penn storm out strong, only to run out of steam late as Hughes was able to exact his revenge.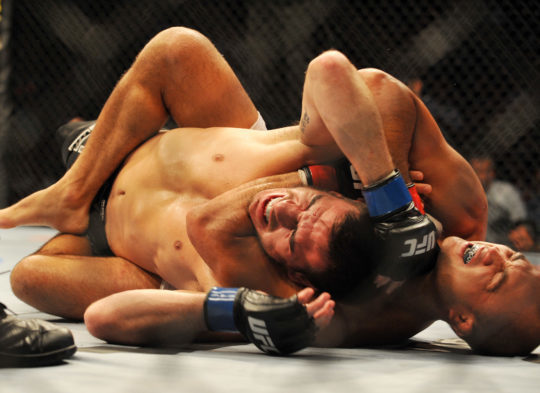 Motivated Massacres & Missing Links
For those familiar with the story of BJ Penn, this is often their favorite chapter as it is as equally entertaining as it is mind-boggling.
Earning his moniker of 'a motivated BJ Penn', we would see the Hawaiian revamp his training in ways he never did before. Not only did Penn enlist the services of dietitians and conditioning coaches, but he also brought aboard renown boxing coach Jason Parillo, who would end up being an instrumental piece in what would become Penn's most legendary run.
A striker by nature––with a preternatural understanding of technique, Penn may not have felt the need to sharpen his tools early on his career. But as soon as he paired up with Jason Parillo, there was an immediate difference that surfaced when he stepped back inside of the Octagon.
Returning to the lightweight division to settle the score with Jens Pulver, Penn would walk out sporting his best physique to date as Israel Kamakawiwo'ole blasted through the speakers in the background. The prodigal son of MMA had returned, and we were just moments away from witnessing it.
As soon as the bell rung, both men stormed out of the gate, but it was clear that Penn was the one who was stalking his prey. Demonstrating immediate refinements to his boxing, the Hawaiian would use his jab to cross-up the southpaw in Pulver as he fed him punches over the top.
Wasting no time in taking him down, Penn would quickly cement his status as the superior grappler. Transitioning from submissions to sweeps, those who knew what they were looking at could see that Penn was essentially a kid playing with his food.
Despite admittedly holding onto the finishing choke for a bit too long, Penn would alleviate any sportsmanship critiques as he immediately embraced Pulver with a genuine sense of comfort and care. And similar to Gomi, Pulver would not only forgive Penn, but he would also ask him for coaching lessons.
Earning himself a shot at the title, BJ Penn would find himself flying to Newcastle, England to face Joe Stevenson for the vacant lightweight championship.
With Sean Sherk being suspended and having his title stripped just 15-months before due to a positive test result, this would be the UFC's fourth official attempt at solidifying a lightweight champion, as well as Penn's third bid for the belt. And as Sean Sherk sat ringside to help call and promote the impending title fight, the former champion would join Joe Rogan and Mike Goldberg in witnessing a piece of history.
In what ended up being one of the bloodiest title fights in UFC memory, BJ Penn would outclass Joe Stevenson as he hit what would become his trademark choke and celebration.
As if being covered in Stevenson's blood wasn't enough, the Hawaiian began to lick the blood from his gloves to commemorate his victory. And like that, Penn became the second man to win titles in two UFC divisions next to Randy Couture.
Wasting no time in waxing poetic, Penn would immediately setup his next fight as he infamously yelled: "Sean Sherk, you're dead!"
Storming into the ring like an episode of Monday Night RAW, Sean Sherk would accept the newly minted champions challenge as another moment in history was made. Although his promos were not as smooth as McGregor's nor as intelligent as Chael's, everything Penn did from promos to the consumption other people's blood came from a place of sincerity as that seemed to resonate amongst fans worldwide.
Perhaps that is why we forgave Penn. Even after turning in one of the most impressive performances in MMA involving a jab at UFC 84, Penn would then take the liberty of calling an end to his fight with Sean Sherk and no one even blinked an eye.
From fighting to trash talking, everything seemed to be clicking at full-speed for Penn as he would once again find himself fighting for welterweight gold. This time, it would be a journey to avenge a loss that many had felt he won before.
It would also afford Penn a chance to hold two titles simultaneously, as this would have made him the first to do it in UFC history. However, as is accustom in this sport, the most well-laid storylines often go up in flames the fastest.
Anyone who knew what to look for could see the potential flags coming in, as we would once again see Penn with suspect fight preparation, appearing to look loose in his physique. In what was the most important fight of his career, Penn would turn in what was arguably his worst performance.
Leaving us scratching our heads as the Hawaiian often did, Penn was forced to eat a slice of humble pie and go back to the drawing board. In what would be a crucial showing for the career of BJ Penn, we would see the Prodigy answer adversity by returning to the lightweight division and defending his belt against Kenny Florian at UFC 101.
Bringing on the Marinovich brothers to handle his strength and conditioning, we got a closer glimpse into the athletic potential of the Prodigy. Parlaying his newfound momentum and preparation into his next fight, we would see Penn welcome an oncoming Diego Sanchez, a fighter who was much different at the time as he held a respectable 21-2 record.
In what was easily considered his best performance to date, we would see the rarest version of BJ Penn as he was practically untouchable for 25-minutes with no signs of ever slowing down.
Culminating in an epic showdown to start the 5th and final round, BJ Penn would become the first person to stop Diego Sanchez by throwing a head kick, a strike that Penn had not thrown in over 6-years of competition.
Some things are impossible to explain no matter how hard you try, and some things should never be explained for the sake of poetry. But that December night in Tennessee, the world got a glimpse of human potential in fighting-form as that 5th round BJ Penn may have been the greatest fighter that I have ever seen.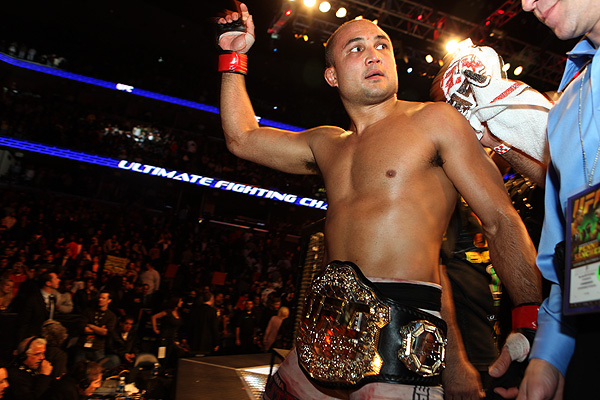 Changeover
After a magical night in Memphis, everything would soon change for the sports pound-for-pound great.
With the division being nearly devoid of contenders, the UFC turned to Frankie Edgar to play the role of challenger for their upcoming event in Abu Dhabi. And as the champion opened as a 9-to-1 favorite in most books, no one saw the upset ahead, not even Penn.
The reason why Penn of all people should have seen it coming, was because he was the first person to predict that Frankie Edgar would be a lightweight champion on-air. That's right.
The night is May 23rd, 2009––and the city is Las Vegas, Nevada. Lyoto Machida is challenging Rashad Evans for the main event of UFC 98, and Frankie Edgar is getting his first shot at a former world champion in Sean Sherk.
Edgar, who earned a decision win in a breakout performance, would send Sean Sherk storming off into the crowd in disbelief. Also in disbelief was BJ Penn, who was in attendance and being interview by FOX Sports just moments after the official decision.
"That's the next champ right there!" -Penn would exclaim to Mike Straka.
And as irony always seems to find a home in MMA, the little contender that could had eventually morphed into the Mount Everest of Penn's career topography.
Not only would Penn lose his title and rematch to Edgar, but he would then move back up to welterweight with even less success than before. Although he was able to win a rubber match against Matt Hughes, Penn would then drop two of his next three fights as the legend would subject himself to more and more damage each time out.
As much as we wanted to believe that he was as superhuman as we thought Anderson Silva to be, Penn was just a human being like the rest of us who was experiencing his version of a changeover.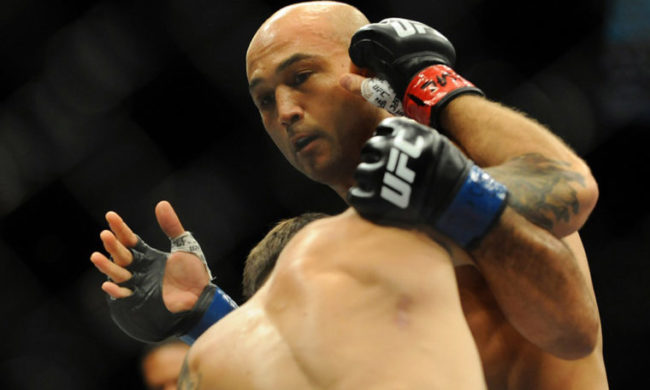 Rising Tides & Setting Suns
The common thread often found in competitors, fighters, and even martial artists, is the lack of an off switch.
Whether that is directed as a restless mind or soul is irrelevant, as those who exist within these realms has met the madness that drives us daily in one way or another. Penn's stubbornness as a warrior is what made him so great, but it is also the same factor that makes many go down swinging.
In what would start to feel like an annual weather cycle, Penn would return to the Octagon once again. And in Penn fashion, he did so by stacking the deck completely against his favor as he would meet Frankie Edgar for a third time at featherweight.
Not only was I in attendance for this bout, but I was fortunate enough to be sitting next to Don Frye for the card's duration. Now, I do not name drop to brag as there is good reason for bringing up the MMA legend.
Throughout the evening, I was lucky enough for Frye to share some of his epic stories of the old school days in Japan. He had a surprising amount of funny ones to tell about Penn, as you could tell that Frye had a lot of respect for the Hawaiian warrior. But as the fight started and progressed, the talk got quieter between us, as well as the people around us.
From the altered walkout music to the mummy-like look and trance of Penn, we were all steadily realizing that we were not watching the same fighter.
And before I even noticed that Dana White had walked out in disgust, the fight was over as even Frankie Edgar's emotions reflected the audiences––as the former champ kept his celebration measured and respectful. Getting up with an odd immediacy, Penn would raise, but not from pride as he still seemed just as despondent as when he came in.
At about this point of the event, Don Frye broke what felt like an eternity of silence as he said that "BJ is one of the last real men to fight in that cage." And coming from a man's man like Don Frye, it was certainly hard to deny despite the disparity in the air.
As an admitted fan of BJ Penn, I stopped trying to guess the trajectory of his career a long, long time ago. Instead, I choose to submit his works to the history books inside my head as I encourage you to do the same.
In a sport that is changing faster than we can keep up with, it is deceptively sprouting it's roots in history before our eyes.
Although you could criticize him in the spirit of wondering what could have been, you cannot deny that BJ Penn will go down as one of the most courageous competitors to fight inside of a cage. He was the original needle-mover who opened the doors for fighters that were south of 170-pounds.
In the current age of multi-divisional champions and money-weight fighters, Penn was the first to pave a path, and he did so for love of the game as opposed to doing it for the money. Rise or fall, you cannot help but appreciate the poetry that is BJ Penn.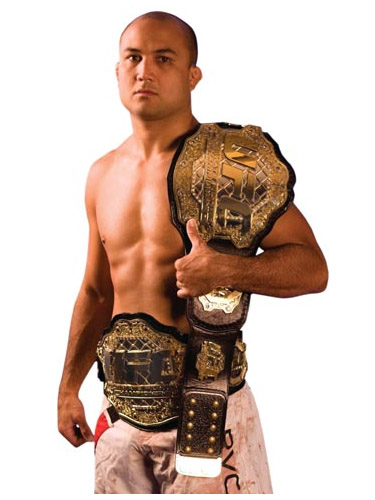 "I just want to be known as the greatest ever…is that too much to ask?"
Dan Tom & Robin Black breakdown their Top-5 BJ Penn moments on The Protect Ya' Neck Podcast
This article was originally written and released through MMALatestNews.com
---